Gallery of Paintings for Artist Dawn Marie Scott
Artwork by Marg Froess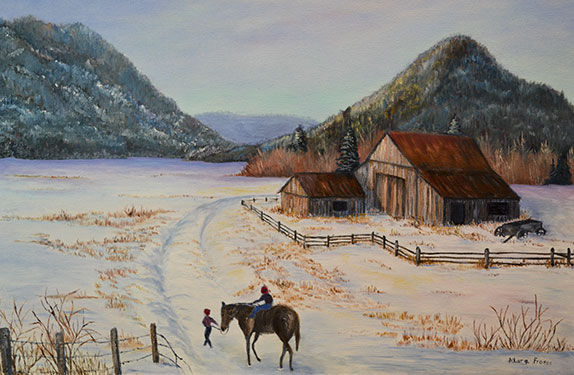 Colours in artwork may vary when viewed on different monitors.
Prices do not include shipping.
Marg Froess
Marg is an artist in progress. She loves to paint landscapes and florals while experimenting with oils, acrylics, and watercolours. She lives on an old berry farm in the North Okanagan Valley of British Columbia, that has been in the family for over fifty years. The beautiful four seasons, old buildings, flower gardens, and daily walks in the back-forty provide inspiration for her paintings and motivation for the vivid colours she uses.
Marg often attends local workshops; she paints with nearby artists' groups, who provide encouragement, fellowship, and good humor. She is a member of the Courtyard Gallery in Enderby and has participated in the Lake Country Festival of the Arts, Shuswap Lake Festival of the Arts and Mount Ida Painters Guild Show & Sales. She also belongs to the SAGA Public Art Gallery where every year several juried shows are presented.
All images are the sole property of the Artists of Partners in Paint: Marg Froess, Pamela Furlong, Diane Larsen and Dawn Marie Scott.